7 mei komt de Amerikaanse heavy-metalband Disturbed naar AFAS Live
De show is onderdeel van de Evolution World Tour die in het teken staat van hun nieuwe gelijknamige album. De kaartverkoop verloopt via Ticketmaster.

Speciaal voor deze tournee is er een nieuwe show met nieuw werk, maar natuurlijk ook de vele klassiekers zoals: Down With The Sickness, Inside The Fire en The Sound Of Silence. 19 oktober verscheen het nieuwe album 'Evolution' van de Grammy Award genomineerde multi-platinum heavy-metalband Disturbed. De band zoekt met dit album vernieuwing op met hun bekende eigen geluid als vertrekpunt. Met de eerste single 'Are You Ready' scoort de band hun 12e nummer 1-hit.

Disturbed over het nieuw album: 'It is with tremendous pride, joy, and anticipation that we look forward to sharing the next chapter in the creative life of Disturbed with the world. This record is truly unique, and very special to us, and we can only hope that upon listening to it, that the world will feel the same. The record showcases the most adventurous and eclectic combination of musical styles and moods that we've ever attempted in our careers. Evolution is coming. Are you ready?'

Zanger David Draiman, bassist John Moyer, gitarist Dan Donegan en drummer Mike Wengren vormden eind vorige eeuw Disturbed. Hun debuutalbum 'The Sickness' ging in de Verenigde Staten viermaal platina en zorgde voor internationaal succes. Ze scoorden hits met 'Down With the Sickness', 'Inside The Fire' en 'Indestructible'. Ook hun cover van 'Sound of Silence' bereikte internationaal groot succes en leverde de band opnieuw een Grammy nominatie op in de categorie Best Rock Performance. Vorig jaar kreeg de band de titel Best Rock Artist tijdens de iHeartRadioMusic Awards.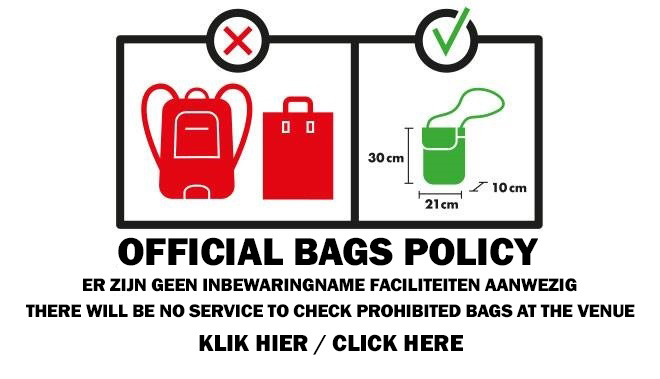 Support act: Skindred
Op 7 mei neemt Disturbed metalcoreband Skindred mee tijdens hun 'Evolution World Tour'! De hamerende mix tussen punk, heavy metal en reggea waar je ook nog eens stukjes hiphop, dancehall en dubstep in kunt horen wordt vaak omschreven als 'Ragga Metal'. Een mix van heel veel verschillende stijlen dus. Maak je alvast klaar voor een hard avondje rammen in AFAS Live!
In de Beat Box: Diggeth
Als Lynyrd Skynyrd, Black Sabbath en Metallica een baby zouden krijgen zou daar de Achterhoekse band Diggeth uitkomen. Het drietal geeft de term Metal n' Roll een nieuwe betekenis! Blijf dus nog even hangen na de show van Disturbed en check deze band in de Beat Box!


Restaurant First
Kom voorafgaand aan het concert een hapje eten bij Restaurant First. Reserveer nu een tafel en geniet van heerlijke gerechten afgestemd op het seizoen. Op de dag van het evenement kan je Restaurant First vanaf 16.00 uur bereiken op 020-409 79 69 voor wijzigingen in jouw reservering of om een tafel te boeken. Voor overige vragen, wijzigingen of (groeps)reserveringen kan je mailen naar restaurant@afaslive.nl.