Important announcement regarding #ATEEZEurope
In light of the increasing concerns of the Omicron variant, and different restrictions imposed by European governments, it is with deep regret that we must announce the rescheduling of all six stops of ATEEZ WORLD TOUR THE FELLOWSHIP: BEGINNING OF THE END IN EUROPE.

As we are monitoring the COVID situation and want to ensure a safe environment for ATINYs to enjoy the show, all parties have come to the agreement that rescheduling the tour is the best decision to make in the current situation. The health and safety of the artists, fans, and staff are always our top priority.
We will be announcing the new dates for ATEEZ WORLD TOUR THE FELLOWSHIP: BEGINNING OF THE END IN EUROPE within the upcoming weeks, as well as the new dates for the fansign events in London, Paris, Berlin, and Madrid. As this is a rapidly developing situation, we ask for your kind patience in the meantime.
We sincerely apologize to all the fans who have been waiting for ATEEZ in Europe and we ask for your kind understanding of these unexpected circumstances.
We know that you have been waiting a long time for more detailed updates and we once again apologize for the lack thereof. We understand your frustrations and we are doing our absolute best to finalize details as quickly as possible in adjusting to the situation. As details are set, we will continue to update you as much as possible to address the concerns you have.
We thank you for your continued support throughout this process and will do our best to bring you good news in the near future.

All original ticket buyers have received an email from Ticketmaster with more information.
-------------------------------------------
South Korea's sensational boy band ATEEZ is reuniting with their fans in Amsterdam through ATEEZ WORLD TOUR THE FELLOWSHIP: BEGINNING OF THE END in AMSTERDAM (Previously known as The Fellowship: Map The Treasure in Amsterdam) on February 13, 2022 in AFAS LIVE.
Voor vragen over dit concert kun je contact opnemen met MyMusicTaste via www.mymusictaste.com/contact
KQ Entertainment's exceptional 8-member group set unprecedented records by selling out their first world tour, going so far as to rank in multiple local and international charts with their albums, and even sweeping awards both domestically and internationally, making them "the K-pop boy band that could break in America" according to Forbes.

The tour, which was originally scheduled for spring 2020 and postponed due to the pandemic, will be the group's first time back in Europe since their sold-out 2019 The Expedition Tour dates.

This will mark ATEEZ's second tour in Europe, brought about as a result of the overwhelming demand from their fans on MyMusicTaste, a global online service that allows fans to request their favorite artists to their city.

*If you are not a MyMusicTaste member yet, join us on https://mmt.fans/MmWQ and request your favorite artist's concert! You too can have access to special perks when your dream concert becomes a reality!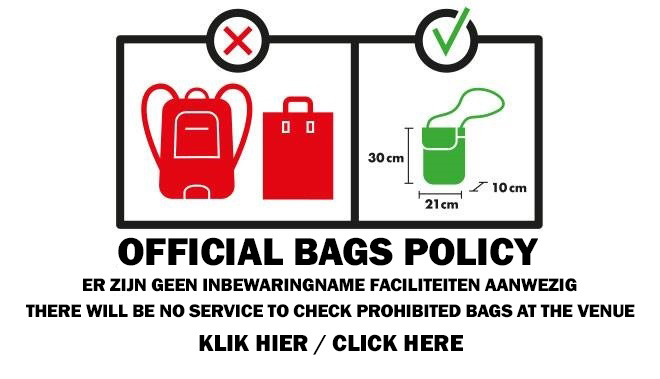 Restaurant First
Kom voorafgaand aan het concert een hapje eten bij Restaurant First. Reserveer nu een tafel en geniet van heerlijke gerechten afgestemd op het seizoen. Op de dag van het evenement kan je Restaurant First vanaf 16.00 uur bereiken op 020-409 79 69 voor wijzigingen in jouw reservering of om een tafel te boeken. Voor overige vragen, wijzigingen of (groeps)reserveringen kan je mailen naar restaurant@afaslive.nl.